Your roof is one of the largest investments of the building envelope. When it fails to perform as intended, water infiltration can create havoc amongst tenants as their living space and contents are compromised.  Knowing the condition of your roof and understanding which options for repair or replacement are appropriate will help you plan for the future and reduce your building's lifecycle cost.
At Optamiss, we strive to preserve your existing roofing assets while making recommendations to extend its useful "Life Span".  But even when this isn't possible due to its deteriorated state, Optamiss will present you with roof recovery, coating restoration or re-roofing alternatives.
The cost of replacing a roof is serious business and should be carefully planned so that you can get the most out of your long term investment.  Embarking on this journey with our team of trusted Consultants will give you peace of mind in knowing that you will be getting the best value out of your roofing investment.
Why Hire a Roof Consultant?
As a building owner/manager the condition of your building is a major concern.
Your roof is one of the largest investments. Knowing the condition of your roof, and understanding which options for repair and or replacement are appropriate will help you plan for the future and reduce your building's lifecycle cost.
Are you ready for a new roof but don't know what your options are? Optamiss will help you decide what roof system is right for your building and budget.
OptaMiss will help you to:
Determine the life expectancy of your roof. Do you know when your roof was installed? Can you predict its remaining 'life span'? We'll help you make that determination so that you can budget accordingly.
Extend the life of your roof. Does the roof really need to be replaced now or can quality repairs and a restoration coating add a few years to its 'Life Span'?. We will provide you with a comprehensive plan to maximize the remaining life of your roof—protecting your investment.
Determine if a new roof can be installed over the existing roof. If the existing roof passes a moisture survey and an uplift test, you may be able to reduce costs by leaving the existing system in place, and installing a second roof system right on top.
Determine if the LWIC can be salvaged.Roofs with existing light weight insulated concrete may be able to re-use it given that it passes a battery of tests. Whether mechanically or fully adhered, we can help you find a roof system that meets the building code for your roof.
Choose the right roofing system for your building. Have there been advances in technology that offer better solutions in cost and function? If you have ponding water, it would be wise to install a system that does not exclude this condition from its warranty.  At OptaMiss we analyze your existing roof, sit with you to know what your budget allows and what your goals are, and then provide you with all the information you need to make an informed decision on the right roof system.
Avoid bait and switch. Too often roofing contracts are signed for a particular roof system before any testing is actually performed.  Sadly for the client, if the tests don't pass, they are then stuck with an unexpected change order, and left at the mercy of the chosen roofing contractor.
Avoid costly change orders. The code requires that certain components on the roof be upgraded to comply with the new code at time of reroofing.  Some of these are: increased drainage or emergency overflow scuppers, the installation of OSHA approved ladders, the replacement of a/c stands, high and low voltage disconnects for the a/c units, and electrical outlets every 25'. Knowing these ahead of time will not only help you take them into account in the budget but will also give you enough time to bid out the work.
Consider the Upgrades.Now is the best and cheapest time to add other components such as: fall protection anchors,  skylights, gutters, down spouts, additional insulation, metal coping on the walls, goose necks and even new a/c units.
Determine if you can phase out the roofing project. Often roof work can be phased over several years, giving you time to increase your reserves. OptaMiss will help you establish a comprehensive plan which may include repair work to stabilize problem areas.  When several roofs are involved it's even possible to determine which ones to replace first, allowing the overall roofing project to be spread out through several years.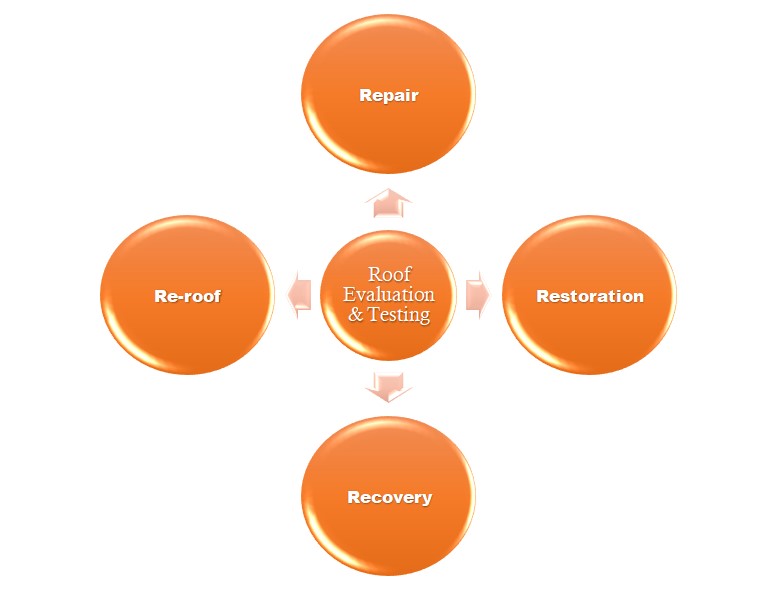 You need a trusted consultant that has extensive industry knowledge and experience—from the inside out—to conduct a thorough roof analysis/survey so you can make a decision that is right for your building. Being an educated consumer will allow you to choose the best option for your building's roof.
Call OptaMiss today to make an appointment or fill out our online form and we'll contact you directly.